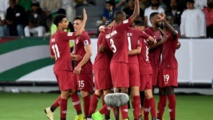 "I'm not concerned at all ... no worries about it," Sanchez told reporters Thursday ahead of the final against Japan on Friday.
"We're here one more day, tomorrow we're playing one game and only focused on the game," he added.
"Any other thing that's not related to the football point of view is not related to our minds at this moment."
Qatar thrashed the UAE 4-0 in a politically-charged game but the hosts claim Iraqi-born defender Bassan Al Rawi and Sudanese-born striker Almoez Ali, top scorer in the tournament on eight goals, are ineligible.
Al Rawi was suspended for the match but Ali played and scored in the encounter.
The English-language National daily in the UAE cited the Al-Ittihad paper as saying the appeal was lodged after the match on Tuesday.
It is alleged the 21-year-old Al Rawi and 22-year-old Ali have not met residency requirements to be eligible. Qatar claims they have relatives born in the country which allows them to play which the UAE dispute.
The AFC said it was reviewing the protest.
Qatar has been subject to a blockade by neighbours, including the UAE, since 2017 over allegations - which it denies - of supporting terrorism.