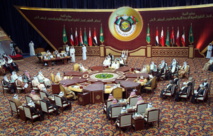 More than three months after three Gulf states - Saudi Arabia, Bahrain, the United Arab Emirates (UAE) - and Egypt severed diplomatic and economic ties with Qatar, the crisis has created uncertainty in the region, the ratings agency said.
The negative effect on Qatar so far has been "most acute for the trade, tourism and banking sectors" as it faces "large economic, financial and social costs stemming from related travel and trade restrictions."
Moody's estimates that the Qatar Central Bank supported bank funding due to capital outflows by injecting nearly 38.5 billion dollars to support the economy in June and July.
In July, the agency Moody's downgraded the outlook on Qatar's rating from stable to negative.
The GCC includes Saudi Arabia, the UAE, Bahrain, Qatar, Kuwait, which has been mediating the crisis, and Oman, which did not join the boycott.
In June, Saudi Arabia, the United Arab Emirates, Bahrain and Egypt severed diplomatic and transport links with Qatar, accusing the tiny gas-rich emirate of supporting Islamist extremist groups, a charge that Qatar has adamantly denied.