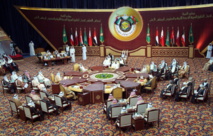 Qatar has for years been accused of being too lax with financial restrictions against extremists in the region. Here are some of the key accusations against Doha, a regional ally of the United States.

- Muslim Brotherhood, Hamas, Taliban -
Since Qatar's rise in international politics in the late 1990s, the gas-rich emirate has directly and indirectly supported Islamist groups across the Arab world, including Egypt's Muslim Brotherhood and allies of the Brotherhood in Tunisia and Libya.
The kingdom was a key backer of Egypt's Islamist ex-president Mohammed Morsi, sparking a 2014 diplomatic dispute that led Saudi Arabia, the UAE and Bahrain to temporarily recall their ambassadors.
Diplomatic ties were reinstated after Qatar shifted to the side of Gulf states in support of Morsi's successor, Abdel Fattah al-Sisi.
Qatar is still home to a number of prominent figures in the Muslim Brotherhood, which is classified a "terrorist organisation" by Saudi Arabia and the UAE. Youssef al-Qaradawi, one of the Brotherhood's spiritual leaders, is based in Qatar.
Khaled Meshaal, former leader of the Palestinian Hamas, is based in Qatar.
The Afghan Taliban also has an office in Qatar.

- Financing suspicions -
Qatar is regularly accused of leniency in the fight against the private financing of extremist groups, accusations it firmly denies.
A 2009 US diplomatic wire released by Wikileaks slammed Qatar as uncooperative with Washington in cutting off funding for extremist groups.
In 2015, a number of French politicians questioned Qatari diplomacy in the wake of the Charlie Hebdo attack. Qatar's ambassador said it had become a "common assumption" that Doha would fund or otherwise support "terrorists and terrorism".
In 2016, the United States renewed its suspicion around Qatar's will and ability to enforce laws against the financing of groups it listed as terrorist organisations.
Leaked emails alleged that then-presidential candidate Hillary Clinton believed Qatar was "providing clandestine financial and logistical support" to the Islamic State group.
Weeks later, Washington shifted gears and praised Qatar's "positive efforts" to fight IS and halt the funding of jihadists.

- The rise of Al-Jazeera -
Founded more than 20 years ago by the government of Qatar, satellite powerhouse Al-Jazeera has nearly 80 offices worldwide and emerged as the voice of the Arab Spring in 2011.
But critics of Al-Jazeera have said its editorial line is too empathetic to Islamists and is sometimes a platform for Qatari diplomatic interests.
Al-Jazeera has regularly been entangled in debates over its proximity to extremists, with slain Al-Qaeda leader Osama bin Laden turning to the channel to disseminate his audio and video tapes to the world.
Saudi Arabia on Monday shut the offices of Al-Jazeera in Riyadh, hours after announcing it was ceasing diplomatic ties with Qatar.
The Al-Jazeera website has been inaccessible from IP addresses in Saudi Arabia and the UAE since late May, in the wake of Qatar's hacking scandal.
In April 2016, Iraqi authorities closed Al-Jazeera's office in Baghdad over what they said was coverage favourable to IS and hostile to Iraq's Shiite majority.
Also that year, Abu Mohammed al-Jolani, head of what was then Al-Qaeda's Syria branch, appeared on TV for the first time in a video broadcast on Al-Jazeera.
Jolani announced his Al-Nusra Front was changing its name to Fateh al-Sham Front and would unify ranks with other mainstream fighters in Syria.
In 2014, three Al-Jazeera journalists received lengthy prison sentences in Egypt for "falsifying information" in favour of then Islamist president Morsi, who was overthrown in a military coup in July 2013.