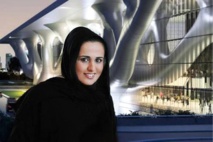 "Qatar is an ancient land, rich in the traditions of the desert and the sea, but also a land that hosted many past civilizations," Sheikha Al Mayassa bint Hamad bin Khalifa Al Thani, chairwoman of Qatar Museums, said at the opening ceremony.
The museum, which opens to the public on Thursday, is one of a number of high-profile buildings designed to make the capital more attractive to foreign visitors. It joins the Museum of Islamic Art and the Arab Museum of Modern Art.
With displays starting in the geological period long before the peninsula was inhabited by humans and continuing to the present day, the museum takes the visitor in a chronological journey.
Surrounded by a park, the new cultural showcase features the renowned 19-century Pearl Carpet of Baroda, which is embroidered with more than 1.5 million of pearls, and adorned with emeralds, diamonds, and sapphires.
It also houses manuscripts, documents, photographs, jewelry, and costumes.