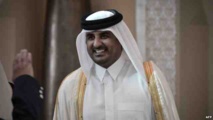 In June 2017, Saudi Arabia, the United Arab Emirates (UAE), Bahrain and Egypt severed diplomatic, transportation and economic links with Qatar, accusing it of supporting and funding terrorists, a charge that Doha denied.
The quartet demanded that Doha downgrade ties with Iran, a regional rival of Saudi Arabia.
"Our position has not changed on how to solve the Gulf crisis," Tamim Saturday told a forum in the Qatari capital Doha.
"This can be achieved by lifting the siege and resolving differences through dialogue and non-interference in other countries' internal affairs," he added, according to the Doha-based television Al Jazeera.
Tamim's remarks come a week after he skipped an annual summit of the Saudi-led Gulf Cooperation Council (GCC) held in Riyadh.
The US-allied grouping comprises Saudi Arabia, the UAE, Bahrain, Kuwait, Oman and Qatar.
The Qatar row is one of the most serious experienced by the GCC since it was created in 1981.
Attempts by Kuwait and the US to resolve the crisis have failed.