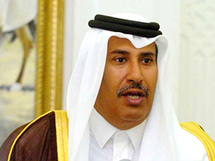 The premier said he would have wanted the level of representation to be higher "but we will sit with them in the future and talk," he added. He did not elaborate.
Qatar is represented at the summit by its ambassador to the Cairo-based Arab League, Saif bin Muqaddam.
Kuwait's Emir Sheikh Sheikh Sabah al-Ahmad Al-Sabah is so far the only head of state from the Gulf expected to attend the summit that is held under tight security measures on Thursday.
----------------------------------------------------------------------------------------------------{C}