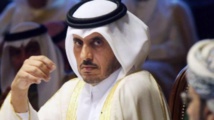 In June 2017, Saudi Arabia, the United Arab Emirates, Bahrain and Egypt broke off diplomatic and transportation links with Qatar over its alleged support for militant groups, a charge that Doha has denied. Efforts to resolve the dispute have yielded no breakthrough.
A spokeswoman for the Qatari Foreign Ministry said that the country's leadership had decided to send the prime minister to three summit meetings due to be held in the Saudi holy city of Mecca on Thursday and Friday.
"The state of Qatar, which has never been absent from effective and positive participation at the Arab, Islamic and international levels, again gives precedence to regional interests over bilateral differences," she tweeted in Arabic.
Abdullah will be the highest Qatari official to visit Saudi Arabia since the row erupted.
Earlier this month, Saudi King Salman called for emergency Gulf and Arab League summits to discuss recent attacks in the Gulf region, which the United States has blamed on Iran, a regional rival of Saudi Arabia.
Qatar is an ally of Iran, which has denied involvement in the attacks.