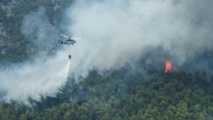 Weather experts said rain is likely to fall midweek over areas recently affected by the Camp and Woolsey fires. The area hit by the Woolsey fire, which spread west of the
San Fernando Valley
and burned to the coast, is expected to see between half an inch to an inch (2.5 centimeters) of rain late Wednesday into early Thursday.
Showers could linger into Thursday morning, said
David Sweet
, a meteorologist with the
National Weather Service
in
Oxnard
.
The Woolsey blaze ravaged nearly 97,000 acres (39,250 hectares) and destroyed 1,500 structures in
Los Angeles
and
Ventura
counties. Three people died and three firefighters were injured.
Heavier precipitation is anticipated in
Northern California
, in the area of the Camp fire. A series of storms beginning early Wednesday and lasting through Saturday is expected to bring 3 to 5 inches of rain.
That fire charred 151,000 acres and destroyed more than 12,000 homes. The death toll of 77 is expected to rise as workers comb through the ruins.
While they wait for a possible second blow, families who fled the fires continued to cope with separation, loss and uncertainty.
Calvin Daley
, 66, sat listening to jazz on his battery-powered radio on the front porch of his two-story home in the charred hills east of
Chico
. Tiny birds hopped from the burned branches of a pine tree to a bird feeder.
Nearby,
Pacific Gas & Electric
crews repaired voltage lines, and other workers used an excavator to move aside hunks of melted metal that once were cars.
Daley didn't evacuate. Instead, he hooked up three hoses, stationed them around his home and began dousing everything. Some people who stayed to fight for their homes died. He had at least three hours to work before the fire arrived with fury.
He had no goggles, no mask, just jeans, a T-shirt and hoses. Sometimes, the water evaporated before hitting its target.
His next-door neighbor's home went up: "My heart sank, I couldn't go over there and save it." By
10:30 p.m.
the fire had moved on. Exhausted, Daley woke himself every hour or so to check on hotspots.
It was eerily quiet for three days, then the birds returned.
Next door, the neighbor's cats had survived. He began feeding them.
As heavy rain approaches, he's worried contaminants will run into his well. He also worries for people who have lost homes, for people living in tents. He wishes it were summer.
Paradise Mayor
Jody Jones
said Sunday that authorities have estimated that it will take at least two years for her obliterated city to begin to return to life - one year to clear debris and another to rebuild.
But the period of destruction is not necessarily over.
The soil in recently burned areas cannot absorb rainwater. Enough rain can lead to fast-moving flows of up to several feet (3 feet correspond to roughly 90 centimeters) deep.
They can contain mud, debris and even trees and boulders that can be deadly for those in their path. The devastation often comes without warning.
To the south, authorities during a town hall meeting with
Malibu
residents last week pointed to the deadly debris flow that hit
Montecito
after the Thomas fire last year.
"I don't want you to think we can stop floods if it rains. Floods will occur," Cal Fire Chief
Thom Porter
said at the meeting. "Much like
Montecito
, the orders will be 'evacuate,' and you need to evacuate if you get that."
The
California Department of Forestry and Fire Protection's
watershed emergency response team has been surveying the region to determine what areas of
Malibu
are most at risk for mud flows in the event of a strong storm. Specific areas have not yet been publicly identified.