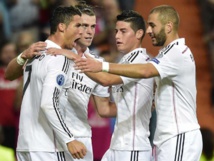 Several hundred thousand supporters took the streets of the city as an open top bus drove the players to the fountain where the club traditionally celebrates its successes.
Earlier Sunday the players had presented the trophy at City Hall where they were received by the city's mayor Manuela Carmena.
Captain Sergio Ramos said: "Hopefully we can keep coming back here to do this because it is a good sign for the club. Now we have to think about winning the 14th."
Real Madrid president Florentino Perez added: "What this team is achieving is unforgettable and unique. Real Madrid leads world football."
Cristiano Ronaldo also addressed supporters saying: "Thank you for being there. This is an unforgettable moment. We have made history."
Club captains Marcelo and Ramos mounted the scaffolding around the Cibeles statue and placed a Madrid scarf and flag on the Goddess' head.
The players were then driven through the packed streets of Madrid to the Santiago Bernabeu where they were due to present the trophy to a packed stadium.