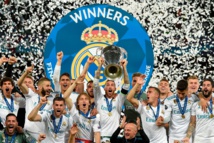 The fifth annual report ranks clubs based on their Enterprise Value, a metric created by analysing profitability, popularity, sporting potential, TV rights and stadium ownership to January 1, 2020.
That means the impact of the coronavirus was not considered.
"Club values have certainly been affected," wrote Andrea Sartori, global head of sport at KPMG, "but the immediate impact cannot yet be quantified."
Borussia Dortmund and Schalke also represent the Bundesliga in the top 15 while there are nine Premier League clubs, seven Spanish and six Italian sides in the top 32.
The top 15 are:
| | |
| --- | --- |
| Club | Value in billions of euros |
| Real Madrid | 3.478 |
| Manchester United | 3.342 |
| Barcelona | 3.193 |
| Bayern Munich | 2.878 |
| Liverpool | 2.658 |
| Manchester City | 2.606 |
| Chelsea | 2.216 |
| Tottenham Hotspur | 2.067 |
| Paris Saint-Germain | 1.911 |
| Arsenal | 1.852 |
| Juventus | 1.735 |
| Borussia Dortmund | 1.281 |
| Atletico Madrid | 1.197 |
| Roma | 0.983 |
| Schalke | 0.814 |