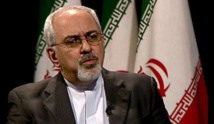 "In order to start the peace process as well as the return of refugees and to allow the start of the reconstruction phase in Syria, the remaining terrorists in parts of Idlib must be fought," Iranian Foreign Minister Mohammad Javad Zarif said during a visit to the Syrian capital Damascus.
The comments come ahead of three-way summit on Syria between Iran, Russia and Turkey on Friday.
The Syrian government, along with its allies, views all actors in the country's long-running war trying to topple President Bashar al-Assad as terrorists.
The north-western region of Idlib is dominated by the al-Qaeda-linked Hayat Tahrir al-Sham (HTS).
As military action looms, activists have warned against another humanitarian catastrophe in the war-torn country for the nearly 3 million civilians living in the region.
The UN has warned that a major military operation could displace as many as 800,000 people.
"We will do everything we can to prevent a humanitarian catastrophe in Idlib," German Foreign Minister Heiko Maas said Monday, adding he would raise the issue when he was in Ankara later this week.
"It is the legitimate right of the Syrian government to fight the terrorists to the end and cleanse their country of them," Iranian Foreign Ministry spokesman Bahram Ghassemi said.
The spokesman added that Tehran would continue to support the Syrian government in its advisory role as long as needed, in comments published online by Iranian state broadcaster IRIB.
Iranian President Hassan Rowhani is expected to take part in the upcoming summit in Tehran with Russian and Turkish counterparts.
The Kremlin, a powerful ally of al-Assad, said the leaders plan to discuss conditions for the return of refugees and how to treat people deemed to be terrorists. Russian President Vladimir Putin is also planning bilateral talks with Rowhani and Recep Tayyip Erdogan of Turkey.
Putin has suggested the withdrawal of all foreign troops from Syria as the conflict has died down in many areas and a political process has begun.
The United States, alongside Israel, views Iran as a maverick funder of terrorism in the volatile Middle East and is pressuring Russia to limit its influence in Syria.