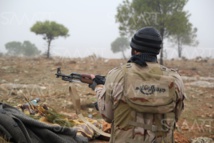 The humanitarian situation in Eastern Ghouta, home to hundreds of thousands of people, is dire, according to the United Nations and Red Cross. The two organizations were able to bring in small amounts of aid this week, reporting hunger and shortages of medicines there.
The UN Security Council last month voted for a nationwide ceasefire. However, nearly half of Eastern Ghouta, near Damascus, has been taken by government forces in recent weeks, amid a relentless push by government forces. People are living underground to avoid airstrikes.
The rebels are looking to evacuate 240 fighters associated with the al-Qaeda-linked Hayat Tahrir al-Sham organization, an official with Faylaq al-Rahman, an Islamist militia, told dpa. He said this could create conditions for a 24-hour pause in fighting to bring in aid.
The UN ceasefire in Syria does not apply to al-Qaeda. Russia and Damascus often point to the existence of the extremist fighters in Eastern Ghouta to keep up their heavy-handed offensive.
Turkey is allied with Russia and Iran - key backers of Syrian President Bashar al-Assad - in the so-called Astana process, an initiative aimed at reducing violence in Syria.
Turkey will host a summit with Russia and Iran on April 4 in Istanbul with Syria in the spotlight, the state-run Anadolu news agency reported, citing diplomatic sources. Turkish President Recep Tayyip Erdogan and his counterparts Vladimir Putin and Hassan Rowhani will attend.
The foreign ministers of the three countries will meet on March 16 in Astana for talks.
The Britain-based Syrian Observatory for Human Rights had said on Wednesday that "more than 700 fighters from the Syrian government's allied militias took new positions on the Eastern Ghouta fronts."
"The regime is preparing to continue its offensive, hoping for new advances in the area," Observatory head Rami Abdel Rahman told dpa.
According to the Observatory, 805 civilians, among them 178 children, were killed in Eastern Ghouta since February 18. Thousands of people have been injured.
Videos released by the Red Cross and activists inside Eastern Ghouta show entire neighbourhoods flattened by aerial bombardments.
Residents are increasingly issuing desperate pleas for help, with some asking to be evacuated after holding out for years.
The area has been under siege for nearly five years, but towards the end of 2017, many tunnel networks that had supplied the area were shuttered as the government moved to regain control over the last rebel enclave in Damascus.
The aid shipments made this week were not sufficient for even 10 per cent of the population, and the government reportedly removed vital supplies, including medical goods. Many of the trucks were unable to fully unload their contents due to violence.
Russia pledged to let the insurgents and their families leave Eastern Ghouta, but rebels have been sceptical of the offer. Russian airstrikes are hitting Eastern Ghouta.
The Russian military said 1,000 sick and wounded people were meant to have left Eastern Ghouta with the aid convoy this week, but blamed the rebels for holding them inside. "The terrorists did not let the people leave the area," the military alleged.
Rebels in Eastern Ghouta have also been shelling government-held territory, leading to dozens of civilian deaths since November in areas on the outskirts of Damascus.