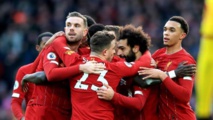 London

(dpa)

–
Liverpool can stop doubting and start believing as Juergen Klopp's promise of a Premier League title is delivered after the club have waited 30 years to be known as champions of England again.
It has been over 11,000 days with 1,149 top flight games played since they carried this national badge of honour and their Anfield home was illuminated by red flares as thousands of fans gathered outside their stadium to celebrate.
Wednesday's 4-0 win against Crystal Palace in their crowdless ground, and Manchester City's 2-1 defeat to Chelsea on Thursday night, rubber stamped the Reds' triumph with an unassailable 23-point lead over the trophy's former owners City.
"I haven't waited 30 years, I have been here for four-and-a-half years, but it is quite an achievement," said an emotional Klopp after his team celebrated privately at a Liverpool hotel.
"It's much more than I ever thought would be possible, becoming champion with this club is absolutely incredible."
When Klopp joined Liverpool in 2015, the club were 10th in the Premier League and in his opening press conference he said: "We have to change from doubters into believers." His players certainly took that message to heart and followed through.
"I felt from day one he came in the door he changed everything, and we have all followed him," praised captain Jordan Henderson. It has been very special, and I hope we can stay hungry and keep wanting more."
It is Liverpool's 19th league honour but this title is unique because it is their first in the Premier League era. The last time they were First Division rulers was in 1990 under the leadership of former player Kenny Dalglish, two years before the Premier League was born.
In that time, the current European and World Club champions have won two of their six Champions League titles and a plethora of other trophies but the Premier League accolade has eluded them until now.
Liverpool's pursuit of the prize for the richest football league in the world has been haunted by one word. Almost. Last season, they came agonisingly close after racking up a club record points total of 97, only to see the league snatched by Manchester City on the final day with 98 points.
"Maybe last year we had a chance to win it, but Man City also performed really good and they won it. It's our time to win it and it's great," said Liverpool's Egyptian top scorer Mohamed Salah, who has notched 21 goals this year.
Breaking records ultimately saw Liverpool as the outstanding club this time around, not just in England, but across other parts of the world.
In the first 21 games of the 2019-20 campaign, Klopp's men set a European record for the best start ever across the "big five" leagues with 61 points.
This record expanded to 79 points from 27 games until their 44-game unbeaten league run was halted surprisingly by relegation candidates Watford in February's 3-0 defeat at Vicarage Road.
Still, Liverpool's streak was the second-longest in Premier League history, five shy of Arsenal's leading 49 in 2003/04. The stretch also broke the record for most points after 38 games across two seasons with 104.
The resumption of the league in June after the coronavirus-enforced suspension in March, raised questions of Liverpool's previous capabilities following a goalless draw at neighbours Everton.
In a commanding triumph against Palace, the ruthless Reds extended their all-time domestic record of home victories to 23 and could become the first Premier League side to win all 19 home games in a season.
Liverpool currently have 86 points with seven games to play and have another European record in their sights. The magic number? 107. The most points won in a season has been claimed by Scotland's Celtic with 106 in 2016-17 and Liverpool could surpass that with 21 to play for.
Statistics will put up the debate that this Liverpool side could be the greatest team of a generation as the new English kings prepare to take on their predecessors Manchester City next week.
For now, Liverpool can revel in a historically defining moment as they look to finish a campaign that is simply unmatched.