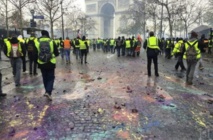 The Interior Ministry said on Saturday there were 18,600 people who took part in the protests nationwide, 1,200 of them in the capital Paris; meanwhile, organizers spoke of 37,000 participants.
While the protests were initially largely peaceful, tensions between the security forces and demonstrators were particularly high in Nantes in the west of France and in Lyon in the south-east of the country, where the police used tear gas.
The authorities had warned in advance about the potential for rioting in both cities.
According to the Interior Ministry, fewer than 19,000 demonstrators participated in the Yellow Vest protests last Saturday, with organizers speaking of 40,000.
The Yellow Vests have been demonstrating against the reform policies of Macron and the centrist government since mid-November.
Initially, up to 250,000 people took part in the weekend protests nationwide, which often turned violent, with clashes between demonstrators and the security forces.
Notepad