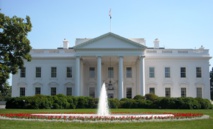 The suspect, who was carrying a gun, was trying to enter the United States from Canada at a crossing in New York state when they were taken into custody by US authorities, according to the broadcaster.
No further details were immediately available.
The letter containing the potentially fatal toxin was addressed to US President Donald Trump and was detected on Saturday after being posted from Canada, US media reported earlier. No one was injured.
NBC said the letter was detected at an off-site facility that screens mail addressed to the White House and that the suspect had also allegedly sent letters to prisons.
Notepad