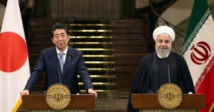 Abe, who returned to Tokyo on Friday from his two-day visit to Tehran, is believed to have requested the release of at least four Americans during his meetings with Iranian President Hassan Rowhani on Wednesday and Supreme Leader Ayatollah Ali Khamenei on Thursday, Kyodo said, citing an unnamed Japanese government source
It is not yet known how the leaders responded to Abe's request, according to the report.
Japan's Foreign Ministry declined to comment on the report.
Abe, the first Japanese premier to visit Iran in 41 years, was keen to serve as an intermediary amid growing tensions between the United States and the Islamic Republic, as Tokyo has amicable relations with Tehran.
Japan had long relied on Iran for oil imports until the Trump administration ended its sanctions waivers granted to buyers of Iran's crude oil.
However, Khamenei ruled out any future negotiations with the US, during his meeting with Abe.
"Iran does not trust the US," Khamenei said in Tehran. "We have already had the bitter experience with the Americans over the nuclear deal and do not want to repeat this experience."
As Abe was wrapping up his visit to Iran on Thursday, two tankers, including one operated by a Japanese company, were attacked near the Strait of Hormuz.
US Secretary of State Mike Pompeo blamed Iran for the attacks, an accusation which Tehran vigorously denied.