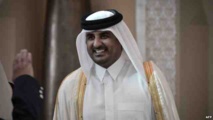 Anadolu would not elaborate on the reason behind the emir's decision that comes four days after he was officially invited by Saudi Arabia's King Salman to attend the annual Gulf Cooperation Council (GCC) summit to be held in Riyadh on Sunday.
The GCC is comprised of Qatar, the United Arab Emirates (UAE), Saudi Arabia, Bahrain, Oman and Kuwait.
Last year, the GCC summit, originally scheduled for two days in Kuwait, ended hours after it began as Tamim and Kuwaiti Emir Sabah al-Ahmed Al Sabah were the only heads of state attending.
The four other leaders of the six-nation grouping skipped the summit amid a dispute between Qatar and a Saudi-led bloc.
Riyadh rallied in June 2017 the UAE, Bahrain and Egypt to impose economic and political sanctions on Qatar, accusing it of supporting and funding terrorists, a charge that Doha denied.
Tamim's visit to Riyadh would have been a major step in the ongoing row, one of the most serious experienced by the GCC since it was created in 1981.