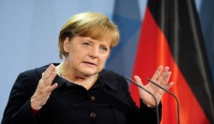 Ambassador Ali Majedi was summoned to the Foreign Office on December 22 to protest the actions of Syed Mustafa H, the Sueddeutsche Zeitung and broadcasters NDR and WDR reported early Monday.
H was convicted in March last year of spying on Reinhold Robbe, a German politician and former president of the German-Israeli Society (DIG), including photographing Robbe travelling from his home to DIG's headquarters in central Berlin.
After the conviction, Robbe accused Tehran of plotting to have him murdered and demanded Berlin call Iran to account, according to German media.
The Foreign Ministry had now told Robbe it had made clear to Majedi during the December meeting that "violations of this kind are completely unacceptable and have negative consequences on the bilataral relations between Germany and Iran," according to the Sueddeutsche.