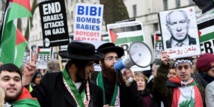 The protest was outside the home of Public Security Minister Amir Ohana, whom demonstrators accuse of trying to quash the daily protests against Prime Minister Benjamin Netanyahu, after taped conversations between him and a police commander were leaked to the media.
They also accuse the police of using excessive force against demonstrators.
Demonstrators told media that a group of pro-Netanyahu activists infiltrated the demonstration and began attacking them.
According to the Wednesday reports, the attackers were members of La Familia, a radical fan club of the Beitar Jerusalem football club. Hardcore members have often been accused of being racist towards Arabs and being members of the radical right-wing.
Police said in a statement that they arrested four suspects "involved in public disturbances and blocking roads."
In a separate statement, police said that, during disturbances at the protest, a fight had broken out between several people and they had arrested a suspect for throwing a stone.
Acting Police Commissioner Moti Cohen said: "Our responsibility is to act to allow all citizens the freedom of speech and this we are doing for a long period of time almost every day.
"At the same time, the safety of the public is the most important priority and therefore we will prevent any public disturbances violence or vandalism or attacks on our police officers," he added.
There have been daily protests against the government's handling of the coronavirus crisis.