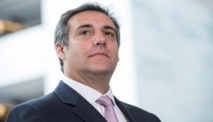 The claim was first made by Michael Avenatti, the lawyer representing porn star Stormy Daniels in a suit against Trump, who posted a document on Twitter detailing the alleged payments.
Avenatti said Cohen received a total of around 500,000 dollars from Columbus Nova, a firm run by a cousin of Viktor Vekselberg, a Russian oligarch with close ties to the Kremlin and the chairman of Russian investment company Renova.
Columbus Nova is described as Renova's US affiliate on a document filed with the Securities and Exchange Commission, according to CNN.
The New York Times later reported that it had also reviewed financial records documenting the payments, as well as others made to Cohen by US companies before the Trump administration.
It said that the payments were made to a shell company created by Cohen, Essential Consultants LLC, the same one used to pay hush money to Daniels, who has alleged that she had an affair with Trump in 2006.
Avenatti suggested in his memo that the money paid to Daniels could have been provided by Vekselberg, via Columbus Nova.
In a statement cited by US media, Richard Owens, a lawyer for Columbus Novus denied that the business had been used to make payments on behalf of Vekselberg.
"Reports today that Viktor Vekselberg used Columbus Nova as a conduit for payments to Michael Cohen are false," he said. "The claim that Viktor Vekselberg was involved in or provided any funding for Columbus Nova's engagement of Michael Cohen is patently untrue."