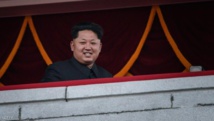 According to unnamed sources quoted by Yonhap, a plane carrying a top Pyongyang official, possibly Kim, arrived in the north-eastern Chinese city of Dalian on Monday.
If Kim is indeed visiting Dalian, it would be his second trip to China after a surprise visit to Beijing in March. China is Pyongyang's main ally and trading partner and has sought a central role in recent diplomatic talks regarding the denuclearization of the Korean Peninsula.
Pyongyang and Seoul reached a breakthrough in negotiations last month, agreeing among other things to officially end the Korean War.
A Chinese Foreign Ministry spokesman said Tuesday, during a regular press briefing, that he could not confirm reports about a North Korean official's visit.
"Currently, I don't have any information I can provide," spokesman Geng Shuang said. "China and North Korea always maintain normal exchanges as neighbours."
The Chinese Foreign Ministry gave a similar response to questions about Kim's rumoured visit in March. The government confirmed his presence in China the following day, after Kim had returned to Pyongyang by train.
Kim is expected to meet with Trump later this month or in early June. Trump said Friday that US and North Korean officials had agreed on a time and place for the historic summit.