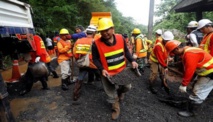 Rescuers also planned to bring out a Navy SEALs doctor and three Navy SEALs officers who have been providing support in the cave.
The group was trapped inside the cave 17 days ago when a flash flood blocked their only route to the exit. Some passageways remain totally submerged in water, forcing the group to use scuba diving equipment during their escape.
The operation involves 19 underwater cave divers and began at 10:08am local time (0308 GMT), Narongsak said.
Tuesday's rescue was expected to take longer than the prior two days' because more people would be brought out: a total of nine, while the previous two days extracted four people each day.
"Our initial plan was to bring four people out each day so we could use the same divers. But then there would only be one person left, so we decided to go for all five today," Thai Interior Minister Anupong Paochinda told reporters.
The eight boys who were rescued from the cave on Sunday and Monday were being treated at a hospital in Chiang Rai.
They were said to be in good health, without fevers and communicating normally, according to an official in Thailand's Public Health Ministry.
The boys were all "safe," but two have minor lung issues, perhaps inflammation, and were being monitored and treated for it, said Jetsada Chokdumrongsuk, a permanent secretary in the ministry.
The children, who were being kept in separate rooms in Chiangrai Prachanukroh Hospital, about 60 kilometres away from the cave, would need to spend at least one week there before being released.
That would mean they will likely be unable to attend the football World Cup final on July 15. FIFA president Gianni Infantino had earlier invited the boys to watch the match live in Russia if they made it out of the cave in time.
Instead, they will be able to watch the game on TV, Jetsada said.
The first four boys, who were rescued on Sunday, were able to see their families on Monday through a window, as doctors wanted to keep them isolated from possible outside germs, Jetsada said.
They also visited and joked with Thai Prime Minister Prayut Chan-o-cha.
The first group brought out are between 14 and 16 years old. The boys rescued on Monday, during the second day of operations, are between 12 and 14 years old, Jetsada said.
The children did not report seeing any animals inside the cave, which was a potential concern because bats and other cave-dwellers could have infected them with diseases, Jetsada said.
The children have also begun to eat normal food, such as boiled rice, in addition to bread with chocolate spread, he added.
All eight boys have been treated with antibiotics.
They are not being shown any news coverage because doctors want to keep them calm and unstressed, Jetsada added.