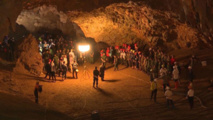 "I confirm we are ready for the operation today," said Narongsak Osotthanakorn, who also heads the rescue operation.
"The weather is good. The water level is good. The divers are ready. The boys are physically, emotionally and mentally ready to come out," he added.
The operation will see each boy escorted by two divers, and they will be brought out gradually, one at a time, Narongsak said. Rescue officials expect the operation, which began at 10 am (0300 GMT) Sunday, to be completed by 9 pm.