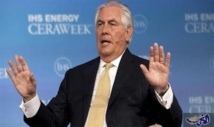 "He's here, Rex is here," Trump told reporters, who shouted questions about the top diplomat's fate during a meeting between Trump and the crown prince of Bahrain.
The New York Times and other US media had reported earlier that the White House is considering replacing Tillerson in the coming weeks with CIA Director Mike Pompeo.
"There are no personnel announcements at this time," spokeswoman Sarah Sanders said. "Secretary Tillerson continues to lead the State Department and the entire cabinet is focused on completing this incredibly successful first year of President Trump's administration."
Tillerson remained focused on doing his job and had a full day of meetings and calls, State Department spokeswoman Heather Nauert said.
"He remains committed to doing this job," she said, but noted that "he serves at the pleasure of the president."
German Foreign Minister Sigmar Gabriel, who met Tillerson on Thursday, said they were due to meet again next week and said he could not comment on the speculation.
Rumours have swirled for weeks that Trump is dissatisfied with Tillerson and the strain between the two emerged in reports in October that Tillerson had questioned Trump's intelligence.
Tillerson said at a press conference at the time that he had not considered resigning.
Trump and Tillerson have reportedly disagreed over major foreign policy issues, including North Korea and Iran. The former Exxon Mobil executive has kept a lower profile than previous secretaries of state as the Trump administration has left open many key State Department positions.
It was not clear whether Trump has signed off on Tillerson's ouster and the White House could be making its deliberations public in an attempt to urge him to quit, the report said.
Notepad