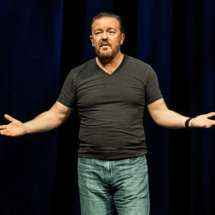 Ricky Gervais
"This terrible predicament we find ourselves in, the heartbreaking loss of human life stems directly from the mistreatment of animals," Gervais says at the beginning of the clip, which was produced by Hong Kong-based NGO Animals Asia.
Actor Joanna Lumley, Guns N' Roses guitarist Slash, musician Rick Wakeman and poet Benjamin Zephaniah also spoke in the video, saying the world must not return to the environmentally destructive systems that some scientists say make pandemics like the current coronavirus crisis more likely.
The video's final shot is of an Asiatic black bear, also known as a moon bear. Over 500 of the animals remain on bear-bile farms in Vietnam despite the practice being made illegal in 1992.
Bear bile is used in Vietnam as an ingredient in traditional medicine for liver conditions, yet the bears are often kept in small cages and the process of extracting the bile from gall bladders can be excruciatingly painful.
Animals Asia, which created the video to mark Moon Bear Day on August 8, told dpa in an email they aim to rescue the remaining 500 bears currently on Vietnamese farms by 2022.
Vietnam is not the only country known for running bear bile farms. In China, an estimated 10,000 bears are kept on legal bile farms.