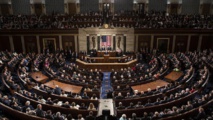 New York-based Human Rights Watch warned the military equipment and weapons could be used by the Philippine armed forces to perpetuate alleged abuses and violations against rebels and other critics of the government.
In April, US President Donald Trump's administration notified the US Congress of two possible deals with the Philippines: one worth 1.5 billion dollars including six AH-64E Apache attack helicopters and a second for 450 million dollars, including six AH-1Z Viper attack choppers.
The sales would also include guided missiles, rockets, light cannon ammunition, as well as service contracts for training, parts and maintenance, Human Rights Watch said.
"Approving contracts for attack helicopters would be sending a terrible message to the Philippine government that long-running military abuses without accountability have no consequences on the US-Philippines relationship," said John Sitton, the group's Asia advocacy director.
"Congress should be impressing upon the Philippine government that real reforms are needed to end military abuses before deals like this can be approved," he added.
The Philippine Embassy in Washington defended the foreign military sales as part of efforts by the government to modernize the country's military, one of the weakest in Asia.
"The programme is critical to national security and necessary to achieving a credible defence posture," the embassy said in a statement. "This also makes the Philippines a more robust and effective security partner for countries in the Asia-Pacific and South-East Asian regions."
Notepad