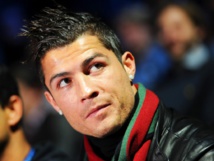 Rome – A slight shiver may run along Cristiano Ronaldo's sinewy legs when he steps on the pitch at Old Trafford on Tuesday to face the red of Manchester United, the colour he donned at the start of his stellar career.
Now wearing the black-and-white of Juventus, the Champions League 120-goal top scorer rejoins the fray after serving a one-game ban as Juve top Group H on six perfect points, with The Red Devils second on four.
Juve made no mystery that his signing from Real Madrid was a crucial step in their bid for a continental title they won for the second time in 1996 before setting a negative record of seven lost finals.
The five-time Ballon d'Or winner, who contributed to Juve's woes with a brace in Real's 4-1 win in the 2017 final, won the first of his elite trophies with United in 2008 as they lifted their third.
He then moved in 2009 to Real, where he won four more before his July transfer to Turin for 100 million euros (115 million dollars).
The Italian champions are not regretting the hefty expense as the striker has tallied five goals and four assists to help them top the Serie A with a four-point lead on Napoli after nine games.
His last goal opened the scoring at home to Genoa Saturday, but the underdogs bounced back for a 1-1 draw that ended Juve's run of eight wins.
"After starting well, we were thinking too much about the game with Manchester United, sometimes frenzied and other times asleep," Juve boss Massimiliano Allegri said.
Ronaldo, meanwhile, added one more record to an impressive list, reaching a tally of 400 goals in Europe's top five leagues, having netted 311 for Real and 84 in his six Premier League years in Manchester.
In the Theatre of Dreams, as Old Trafford is called, Ronaldo will shake hands with Portuguese compatriot Jose Mourinho, who coached him in a perturbed relationship at Real from 2010 to 2013.
But most of the striker's thoughts as he enters the arena will likely go to Alex Ferguson, the retired, iconic Red Devils boss who welcomed him from Lisbon's Sporting when was 18. Ronaldo then helped Ferguson win three of his 13 English titles.
"He's been my father in sport, one of the most important factors and most influential in my career," Ronaldo said after his transfer to Real.
"I have to thank him for all that he taught me. He's been fundamental. I'll always have great affection for him and he will occupy a special place in my heart."
Despite some controversies, mostly stemming from quarrels with team-mates, Ronaldo can expect a warm salute from Old Trafford's fans.
Should hecklers prevail, they are unlikely to affect his performance as he often proved his resilience under pressure.
Recent rape allegations in the United States, where Las Vegas police reopened a sexual assault investigation dating to 2009, have not dented Ronaldo's determination on the pitch. Juve have backed him while he firmly denied the allegations.