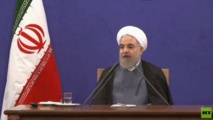 "The voters made it clear during elections what they want and what they don't want," Rowhani said after the swearing-in ceremony, adding that political self-determination - not weapons - would ensure the security of Iran. Rowhani, a moderate cleric and reformist who was first elected president in 2013, defeated hardliner Ebrahim Raisi in Iran's May 19 election with 57 per cent of the vote.
His domestic and foreign policies, considered liberal by Iranian standards, have not been well-received by the Islamic clergy or the elite paramilitary Revolutionary Guard, both of whom support political stances rooted in the Islamic revolution of 1979.
Without explicitly referring to Saudi Arabia, Iran's regional rival, Rowhani said that in order to achieve peace, his country would "reach out to all neighbouring countries and invite them to achieve this goal with us."
Rowhani's landslide victory has been seen as an indication of strong approval for Rowhani's Western-friendly reformist agenda - in particular his 2015 nuclear deal with world powers.
The nuclear agreement with the United States, Britain, France, Germany, Russia and China reduced the scope of Iran's nuclear programme in return for the end of economic sanctions.
US President Donald Trump harbours deep scepticism for the nuclear deal and has sought other ways to keep the pressure on Tehran.
Trump recently signed a new package of sanctions that target Iranian individuals for involvement in the country's ballistic missile programme and impose penalties for alleged terrorist activities and human rights abuses.
Notepad