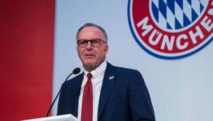 Rummenigge
It was "not excluded that there is another attempt," the 64-year-old told Sky TV on Sunday. "The salary cap is an interesting discussion in my opinion."
Rummenigge, a former chairman of the European Clubs Association, recalled former UEFA president Michel Platini had made various proposals to the European Union in Brussels on the topic.
"Unfortunately he always ended up with a bloody nose although all the big clubs in Europe supported the idea because we were informed that it did not align with competition rules in Europe and as such had no chance," said Rummenigge.
"It's difficult to say if the situation is different today."
Capping salaries, it is believed, would help stop the growing gap between professional football and fans. The coronavirus pandemic, financial difficulties of many clubs and the image crisis in football has brought the subject up again.
German football league (DFL) chief executive Christian Seifert intends to drive the issue in the coming months. According to the DFL economic report, the 18 Bundesliga clubs spent 1.43 billion euros (1.55 billion dollars) on players and coaching staff in the 2018/19 season.
If a cap is introduced, it would have to be fully thought through, according to Rummenigge.
"I don't think that we want American style sport here, there is no promotion, no relegation," he said. "That is an important part of football."
Notepad