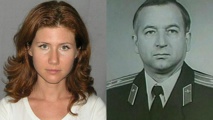 Britain should instead cooperate with Russian law enforcement agencies seeking to help investigate the incidents, Russian Foreign Ministry spokeswoman Maria Zakharova said in comments carried by state news agency TASS.
Britain has identified the poison as the Russian-developed chemical weapon Novichok.
"Right now it is important to launch a full-scale investigation," Zakharova said. "Our law enforcement agencies are ready for this job. We inform the British side about this regularly, several times a month, via diplomatic channels."