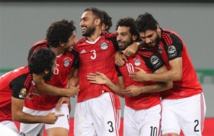 Hosts Russia thrashed Saudi Arabia 5-0 in their first Group A game but face a tougher test in Salah's Egypt in St Petersburg, with the Liverpool winger set to return from injury.
Salah enjoyed a sensational season at Anfield but suffered a shoulder ligament injury in the Champions League final which has kept him sidelined until now. He was an unused substitute in the opening 1-0 loss to Uruguay.
"We understand (Salah's threat) and we study every team and every team has players you have to play special attention to," Cherchesov told a news conference Monday.
"Egypt are a balanced team and Salah is the best player, but we're not playing against one player, we have to take into consideration all the players. We know how to do this and tomorrow you will see it."
Cherchesov believes Real Madrid defender Sergio Ramos did not injure Salah on purpose in the first half of last month's Champions League final, which the Spanish giants won 3-1.
"I believe Ramos did not do this on purpose, this is a contact sport, I understand nobody injures people on other teams on purpose," he said.
A win for Russia could see them seal their place in the last 16, depending on the result between Uruguay and Saudi Arabia on Wednesday.
"Before the game we'll see if Mo Salah is ready, only his coach and he himself know this but we have our own mission and we will accomplish the mission," said Cherchesov.
Notepad