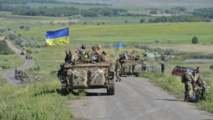 The law, "which permits and even encourages the use of force to restore Ukraine's territorial integrity," is a departure from the internationally agreed peace process, Lavrov told reporters in Slovenia, according to comments carried by state news agency TASS.
Ukrainian President Petro Poroshenko signed the law on Tuesday. The legislation specifically envisions the use of military force against Russia.
Russian-supported separatists and the Ukrainian military have been battling for nearly four years in Ukraine's two eastern-most regions, which border Russia. More than 10,000 people have been killed in the conflict.
The new law enables Ukraine's military to "use force" to "deter armed aggression of the Russian Federation in the Donetsk and Luhansk regions," according to the final text on the parliament's website.
Russia's Foreign Ministry last month described the law as a "preparation for a new war."
The rebellion erupted in early 2014, when Ukraine ousted its pro-Russian president amid mass protests calling for closer ties with the West.
Russia has supported the rebels' cause, with Russian President Vladimir Putin representing them in negotiations, but has repeatedly rejected allegations of fuelling the conflict with supplies of munitions and troops.