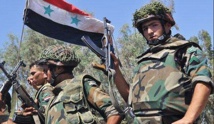 "We are absolutely confident that the operation to destroy the remaining groups of Islamic State in areas east of the Euphrates and on the Syrian-Iraqi border will develop positively," Alexander Lavrentyev said in comments carried by state news agency TASS.
Russia, the Syrian leadership's main military ally in that country's multi-sided civil war, has been making a concerted effort in recent months to reduce its military actions there.
In recent months, the Islamic State has suffered military setbacks and lost ground in Syria.
The situation in Syria is gradually improving," with a "tendency for stabilization," Lavrentyev said at a meeting with a Syrian state delegation during a peace summit being hosted by Kazakhstan.
Russia, Turkey and Iran are acting as guarantors of a de-escalation zone in Syria, established in the so-called Astana process. Talks have regularly taken place since 2017 in the Kazakh capital Astana, and are meant to complement the UN-led peace process.
A member of the Syrian opposition team attending the two-day talks in Astana said their main aim at the forum is to ensure safety of civilians, mainly in the Idlib region, Syria's last key opposition stronghold.
"As an opposition delegation, our main aim is to stop any move by the regime that can result in failure of the Idlib agreement," Yasser Farhan told dpa by phone.
He was referring to a Russian-Turkish deal sealed in September establishing a demilitarized buffer zone in Idlib, a move that prevented a major government offensive.
"Our second priority is the fate of prisoners," Farhane added.
There are around 80,000 people held in Syrian government jails or missing, according to Rami Abdel-Rahman, the head of the Syrian Observatory for Human Rights, a war monitor.
Farhan said the Astana gathering includes discussion on drafting a new constitution for Syria.
In October, leaders from Turkey, Germany, France and Russia agreed after talks in Istanbul that a committee to draft a constitution in Syria should be ready by the end of this year.
In January, representatives of the Syrian government and opposition agreed in the Russian city of Sochi to set up a constitutional committee and to hold democratic elections in Syria.
Syrian President Bashar al-Assad's government has so far rejected any efforts to rewrite Syria's constitution, saying it is a domestic issue.