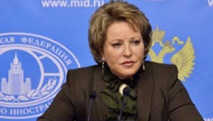 Valentina Matviyenko
"But we will do our utmost to prevent this," she added.
Matviyenko did not say how Russia would block such a move.
The US has not explicitly ruled out a military intervention in Venezuela, where an economic crisis presided over by President Nicolas Maduro has precipitated mass migration due to dire humanitarian conditions.
The US supports Juan Guaido, an opposition leader who declared himself interim president in January and called for fresh elections, along with numerous other Latin American and European states.
Maduro has the backing of Russia, China and regional allies Cuba, Nicaragua and Bolivia.
On Saturday, Russian Foreign Minister Sergei Lavrov doubled down on the Kremlin's criticism of Washington's involvement in the oil-rich nation's internal affairs.
Following a phone call with US Secretary of State Mike Pompeo, Lavrov said that aggressive influence from outside the country "under the hypocritical pretext of humanitarian aid has nothing to do with the democratic process."
Venezuelan Vice President Delcy Rodriguez visited Moscow this weekend for talks.