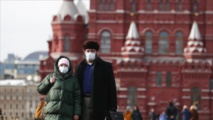 Russia has now recorded nearly 166,000 cases of the novel coronavirus, with daily rises of about 10,000 cases in recent days. Germany has recorded around 165,000 cases.
If Russia's current trajectory continues for another week, it could have the highest identified coronavirus caseload in Europe. The United States has the world's highest official caseload, at more than 1 million.
Russia's prime minister, Mikhail Mishustin, has been hospitalized with the virus. His spokesman said on Tuesday that Mishustin was being treated in stable condition at a state medical facility.
Russia has had lockdown quarantine measures imposed throughout most of the country for more than a month, in an effort to reduce the rising infection rate.
The Kremlin has expressed hope that due to the strict quarantine rules the country's infection rate would plateau later this month.
Russian President Vladimir Putin and many other senior officials have been working remotely, addressing the public and coordinating their efforts in nationally televised video chats.