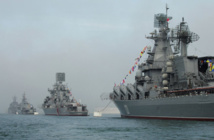 Moscow -
Russia was set to begin its largest military exercise since the Cold War on Tuesday, involving more than 300,000 military personnel, including forces from neighbouring China and Mongolia.
The planned week-long manoeuvres will be the largest since 1981, according to Russia's Defence Ministry.
China's participation in the exercises, known as the Vostok drills, exemplifies an overall expansion of collaboration with Russia as an ally, the Kremlin has said.
Russia and China are among the founding members of a Eurasian security and economic alliance, the Shanghai Cooperation Organisation, formed in 2001. Mongolia has observer status.
Maintaining Russia's defence capabilities is "justified, needed and has no alternative" as rival powers are "frequently quite aggressive and unfriendly," Kremlin spokesman Dmitry Peskov said last month in comments carried by state news agency TASS.
Last year, Russia conducted a series of military drills in its western regions, in collaboration with Belarus. That large-scale exercise, called the Zapad drills, involved almost 13,000 troops.
The western drills prompted concerns from NATO that Russia could be preparing invasion strategies, specifically against the former Soviet Baltic states of Estonia, Latvia and Lithuania, which are NATO members.