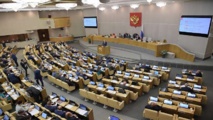 The parliament is dominated by the political party most closely associated with Putin, United Russia. The bill will now go to the upper house, where it is also almost certain to be approved.
Speaker Vyacheslav Volodin told reporters that 383 lawmakers voted in favour, 43 abstained, and none voted against, the Russian news agency Interfax reported.
The bill included about 390 changes to the constitution, Volodin was quoted as saying.
The constitution in its present form allows a president to serve for two consecutive terms, meaning that currently Putin would have to leave the presidency in four years.
Putin served two four-year terms as president from 2000 to 2008. After that the constitution was amended to provide six-year terms, and Putin returned the presidency in 2012 and was re-elected in 2018.
The bill was expected to be approved by the upper house on Saturday, then go to the Constitutional Court.
Putin would like to sign the bill into law on March 18, the anniversary of Russia's annexation of Ukraine's Crimea region, Interfax reported.
Putin has insisted the amendments should be approved by a nationwide referendum on April 22 to go into effect.
The amendments include establishing a minimum wage and pension allocations based on the cost of living, aspects that could help to convince the populace to vote in favour.
Other amendments would boost the authority of the government's legislative branch, currently controlled by the Putin-backed United Russia party.
The proposed legislation would also enshrine a ban on gay marriage in Russia's constitution, as well as an attestation of faith in God, a marked departure from the atheist doctrine of the Soviet Union.