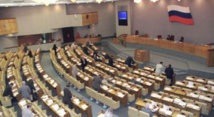 The prime minister would be granted the "right to implement a regime of high alert or a state of emergency for the entire territory of Russia or for a part of it," the legislature said in a statement.
Prime Minister Mikhail Mishustin suggested the previous day that lockdown measures that have already gone into effect in Moscow should be replicated across the country to prevent the further spread of the virus.
Moscow, the country's capital and largest city, has ordered its residents to stay at home and only to go outside when absolutely necessary, to buy food or medicine, for example.
Russia has reported more than 1,800 cases of the new coronavirus, two-thirds of them in Moscow. Mayor Sergei Sobyanin has warned that the actual number of cases is probably significantly higher.
Russia has also restricted all forms of traffic into the country with rare exceptions, such as for diplomats and imported goods.
The bill still requires two more readings in the lower house. Those are expected soon. With that backing, the bill would be expected to be subsequently approved by the upper house and signed by the president to become law.