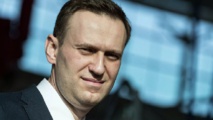 Navalny
Navalny fell ill while on a domestic flight in Russia last month during a campaign trip, and doctors treating him in Germany concluded that he was poisoned with a form of the Soviet-developed nerve agent Novichok. The Interior Ministry "will particularly ask for permission for Russian investigators and experts to be present during Germany's investigative actions involving Navalny, doctors and experts," state news agency TASS reported on Friday.
The German government has said toxicology tests prove that Navalny was poisoned with a form of the Soviet-developed nerve agent Novichok.
Moscow has nevertheless refused to open a criminal case into the incident, with Russian law enforcement and health officials saying they found no hard evidence of poisoning. The prosecutor general's office has asked Germany to fully disclose its findings regarding Navalny.
Navalny has been one of the fiercest domestic critics of President Vladimir Putin over the past decade, organizing several series of protests against the long-time Russian leader, whom he accuses of perpetuating widespread corruption.
Navalny was initially treated in a comatose condition in a hospital in the Russian city of Omsk for two days before he was medically evacuated on a German-operated flight to Berlin. He is currently being treated for poisoning at Berlin's Charite hospital, where the doctors woke him from a medically induced coma earlier this week.
Notepad