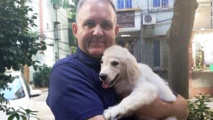 Whelan, 48, was detained in Moscow in December on an allegation of possessing documents containing state secrets. He faces up to two decades in prison.
Moscow's Lefortovo District Court extended Whelan's pre-trial custody period until May 28, state media reported.
Whelan, a former Marine who worked for US auto parts supplier BorgWarner, is reported to have US, Canadian, British and Irish citizenship.
Speculation has swirled that Whelan could be traded for Russian national Maria Butina, who confessed in the United States in December to conspiring to act as an unregistered foreign agent.
Whelan was detained two weeks after Butina confessed as part of a US plea deal. Whelan's family has said he was in Russia to attend a wedding.
Russia's Foreign Ministry has brushed off the speculation, with spokeswoman Maria Zakharova saying that "exchanging Paul Whelan for someone held in custody abroad is out of the question at the current stage."