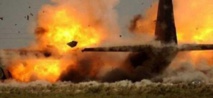 The plane is believed to have been carrying 26 passengers and six crew members, and crashed about 500 metres from the runway.
"They all died," the Defence Ministry said, according to state news agency TASS.
The aircraft does not appear to have been fired upon, the ministry said, adding that an investigation was in process.
Hmeimim has been Russia's main base of operations for its air campaign against insurgent groups in Syria.
Russia has lost nine military aircraft in Syria since it entered that country's multisided civil war two and a half years ago to assist the Syrian government, a longtime ally.
Last month a Russian Su-25 attack aircraft was shot down over Syria's north-western Idlib region, believed to have been hit by a shoulder-launched, heat-seeking missile.
The pilot ejected into rebel-held territory and facing certain capture, chose to blow himself up with a grenade, the Defence Ministry said at the time.
The pilot, Major Roman Filippov, was honoured posthumously with the title of hero of the Russian Federation.