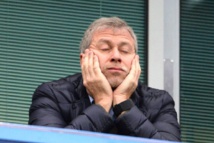 Roman Abramovich
Abramovich, the owner of Britain's Chelsea football club, became Israel's richest citizen after he officially immigrated on Monday, Israeli state media reported. He reportedly had problems getting his British visa renewed, and, as the child of Jewish parents, the 51-year-old has the right to a passport from Israel.
According to the US business magazine Forbes, Abramovich has 10.8 billion dollars at his disposal. That earned him the 140th spot on the magazine's billionaires ranking for 2018, which is based on estimates of assets that include stocks, real estate, art and other luxury goods from public sources.
Abramovich appeared in a Swiss court near Bern on Wednesday regarding the repayment being claimed by the European Bank for Reconstruction and Development (EBRD). The institution is seeking 46 million Swiss francs (46 million dollars) plus interest. The case centres on a loan that the EBRD made to Russian bank SBS-Agro in 1997.
Since the Russian lender went bankrupt, the EBRD has tried to recover the money from Abramovich's Switzerland-based oil marketing company Runicom because of its loan guarantees for SBS-Agro. The case has been tied up in Russian and Swiss courts for years.