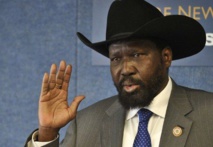 The world's youngest nation on Monday declared famine in parts of the northern Greater Unity state, where 100,000 people were facing starvation and another one million were on the brink of famine. A total of nearly five million are going hungry. Aid groups have slammed a "man-made" famine caused by ongoing fighting in the country where civil war has forced people to flee, disrupted agriculture, sent prices soaring, and seen aid agencies blocked from accessing some of the worst-hit areas.
"It underscores the complete failure by government, opposition forces, and international actors to end the cycle of abuse," Human Rights Watch (HRW) said in a statement Tuesday.
In an address to parliament, Kiir said the government "will ensure that all humanitarian and development organisations have unimpeded access to needy populations across the country".
A UN aid official working in the region, speaking on condition of anonymity, welcomed the commitment -- which has been made in the past -- while saying it was "more important that access be granted on the ground".
Kiir's commitment could give leverage in negotiations on the ground, she said, as gaining access to hungry communities often meant tricky talks with an array of actors in the crisis.
Some regions are only accessible through air drops of humanitarian aid -- which the UN official said costs seven times more than sending aid by road or barge.
And access is not as simple as permission: aid agencies have to be sure if they give out food aid to a community they won't be attacked by an armed group and have their rations stolen right afterwards.
"There are many types of impediments," said the official.

- 'Abandoned' -

South Sudan was engulfed by civil war in 2013 after President Salva Kiir accused his rival and former deputy Riek Machar of plotting a coup against him.
The HRW statement launched a withering attack on the leaders of South Sudan as well as the international community, saying both sides in the conflict "have shrugged off international pressure, and spared themselves from any meaningful consequences".
This despite documented cases of large-scale killings, recruitment of child soldiers, rape and torture.
"The people of South Sudan were abandoned by their leaders a long time ago. The UN Security Council and regional organisations have failed civilians. Today's famine is the price of inaction," read the statement.
The European Commission on Tuesday announced an emergency aid package worth €82 million ($86 million) for "the most urgent needs in the country" and to help neighbouring countries cope with a massive influx of refugees.
The US State Department expressed serious concern and stressed the crisis was man-made.
"We call on President Kiir to expeditiously make good on his promise that humanitarian and developmental organizations will have unimpeded access to populations in need across the country," acting spokesman Mark Toner said.
"An estimated 5.5 million people—nearly half of South Sudan's population—will face life-threatening hunger this year," he said.
"All parties to the conflict must stop impeding relief efforts and allow food and other essential assistance to reach those who need it the most."
str-fb/ach/rb