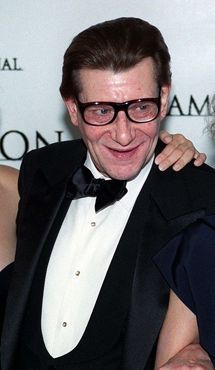 In comparison to the record-smashing 700-item February sale, which fetched 342.5 million euros (491.9 million dollars) in the biggest private art sale in history, next week's auction is expected to ring up a mere three to four million euros, said Francois de Ricqles, deputy president of Christie's France.
"This auction is totally unlike the first, which was the sale of an art collection," he told AFP. "There are no masterpieces this time, we're not expecting to break market records."
Buyers were expected to turn out in numbers nonetheless, said Jonathan Rendell, deputy head of Christie's America, thanks to the high prestige of the YSL-Berge pair in art and fashion circles.
"All of this belonged to Saint Laurent and Berge, it was part of their intimacy, their universe," said Rendell. "A lot of it is quirky but it was there with them at the weekends.
From neo-Gothic chairs, to panther sofas, rococco mirrors, porcelain, floor cushions and spare curtains, "I think prices will fly," Rendell said.
The February chapter in the once-in-a-lifetime YSL sale smashed 25 records for artists as well as setting new ceilings in Art Deco and silver.
Berge, a business tycoon and arts patron who was Saint Laurent's lover and business partner, opted to sell the collection amassed over a lifetime after YSL's death in June last year aged 71.
Last month, he said he would offer the entire proceeds of the November follow-up sale to fight AIDS, along with some of the proceeds from the February auction.
"It is a misconception to think AIDS is like other illnesses," Berge, who is 78, said. "We are not at the end of the tunnel, we are travelling further down the tunnel."
Works on auction are largely from the pair's three-storey Chateau Gabriel on the Normandy coast, a rambling place with a sea view and vast grounds that was built in 1874 for wealthy Americans.
Purchased in the early 1980s, the pair had it redecorated in eclectic style to evoke writer Marcel Proust's "In Search of Lost Time", late 19th century castles of Bavaria, and decors from Luchino Visconti's final film "The Innocent".
The walls of the living room were painted in the style of Claude Monet's Nympheas, classical furniture mixed with unusual objets d'art, and each of the bedrooms inspired and named after characters in the Proust novel.
"It was the only book that Saint Laurent read and re-read," Rendell said.
Two chandeliers from the house -- one a 34-branched 19th century Dutch creation, the other in bronze -- are estimated at between 50,000 and 70,000 euros apiece.
An early 16th century Chinese Ming Fahua basin is expected to fetch between 40,000 and 60,000 euros -- only a fraction of the 15.7 million euros (20,3 million dollars) bid for two disputed Chinese relics at the February sale which are still held by the auction house failing a settlement.
Other items up for grabs at the follow-up sale are from the up-market Paris home of Saint Laurent, the most expensive a 1950 Fernand Leger gouache estimated at between 80,000 and 120,000 euros.
Other mementoes from the king of couture include his black 2007 S-class Mercedes-Benz for 30,000 to 50,000 euros, three Hermes suitcases in crocodile leather at 4,000 to 6,000 euros and 10 of his signature jewels kept in his bedroom from 800 euros each.
--------------------------------------------------------------------------------------------------------------------------------
Image: AFP: Stan Honda, file photo.