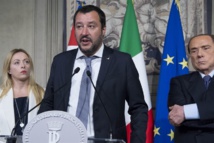 The government has been rocked by constant squabbles between Salvini's League and its coalition partner, the anti-establishment Five Star Movement (M5S).
Coalition rows were expected to subside after last month's European Parliament elections, but instead they got worse, leading Prime Minister Giuseppe Conte to threaten to quit unless they stop.
"If there were not a clear assumption of responsibilities as I have requested [...] I will hand over my mandate to the President of the Republic," the premier said Monday.
Salvini is seen as the government's dominant figure after winning a record 34 per cent of the vote in the EU polls. He says the result has given him a strong mandate to push his agenda.
"As far as I am concerned, I never thought of pulling the plug on the government, neither before nor after the European elections. But I insist: what matters is actions," the League leader said Tuesday.
Salvini wants the approval of more autonomy for League-controlled northern regions, radical tax cuts in defiance of EU budget discipline rules, and tougher rules on immigration.
The M5S has misgivings on several aspects of Salvini's agenda, but party leader and deputy premier Luigi Di Maio has proposed a coalition summit to iron out differences.