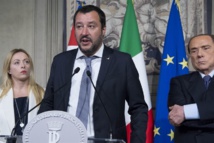 Deputy Transport Minister Edoardo Rixi was handed a three-year, five-month jail term by a court in Genoa in connection to a public expenses scandal in the regional parliament of Liguria, in which he previously served.
After the verdict, Rixi handed in his resignation to League leader and deputy premier Matteo Salvini, even if several party figures had said earlier this week that they would insist on Rixi keeping his job even if he were found guilty.
The League's coalition partner, the anti-establishment Five Star Movement (M5S), had instead pledged to fight on the principle that a convicted public official could not have been allowed to remain in office.
It was unusual for Rixi to hand in his resignation to Salvini, rather than to Prime Minister Giuseppe Conte. Salvini said he believed in his ally's innocence and gave him a new job as the League's spokesman on transport.
The League and the M5S have been in office for almost a year, but their partnership is in crisis. The League's strong showing and the M5S' defeat in Sunday's European Parliament elections have made their relationship even more strained.
Rixi is expected to appeal his conviction and is unlikely to serve any sentence until a final guilty ruling is delivered. He is also expected to keep his position as a member of the lower house of parliament.