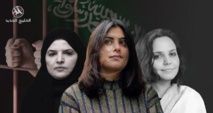 Earlier this week, the human rights groups reported that masked interrogators tortured female activists with electrocution and flogging, which led to difficulty walking, uncontrolled shaking of the hands, and red marks and scratches on their bodies.
"These recent reports by Amnesty International and Human Rights Watch are baseless. The government of the kingdom of Saudi Arabia categorically and strongly denies the allegations made by them," the kingdom's Ministry of Media said in a statement.
"The wild claims made, quoting anonymous 'testimonies' or 'informed sources,' are simply wrong," the statement added.
Saudi authorities have detained more than a dozen women's rights activists since May. Most of them were campaigning for the right to drive - which was granted in June - and an end to the kingdom's male guardianship system, which requires women to obtain the consent of a male relative for major decisions.
Saudi Arabian Crown Prince Mohammed bin Salman was hailed for championing a series of social and economic reforms - including allowing women to drive - as part of his ambitious Vision 2030 plan to help diversify the kingdom's oil-reliant economy.
However, the kingdom has been under international pressure ever since the killing of dissident journalist Jamal Khashoggi, a critic of the powerful heir to the throne, in its consulate in Istanbul on October 2.
Press reports have linked the crown prince to the killing. The Saudi government has repeatedly denied the claim.
Notepad