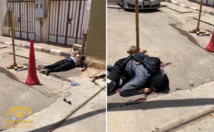 Riyadh -
By Ramadan Al-Fatash,
-
Saudi security forces on Sunday foiled an attempted attack outside the capital, Riyadh, killing four gunmen, a security official said.
The Islamic State militant group later claimed responsibility for the attack, which targeted a security facility.
A gun battle erupted after the four militants attempted to storm a security investigations centre in the province of al-Zulfi, 250 kilometres north of Riyadh, Saudi news agency SPA reported citing s spokesman for the State Security Service.
Three security personnel were slightly injured in the clash, according to the official, which said that the identities of the four attackers had yet to be established.
Islamic State's semi-official Amaq news agency reported that the attackers were fighters from the radical group.
Saudi-owned television Al Arabiya said that all the attackers were Saudi nationals that were members of Islamic State.
Saudi Arabia has experienced a series of deadly bombings that have been claimed by Islamic State militants.
In recent years, the oil-rich monarchy has stepped up a crackdown on suspected extremists.