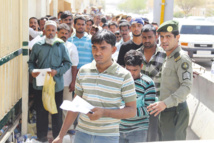 The new system will come into effect within the coming six months, the Ministry of Labour and Social Development said in a statement.
Local sponsors have to deposit the workers' wages in their bank accounts, the statement added.
Saudi Arabia and other Gulf countries apply a controversial system for foreign workers called "kafala," or sponsorship, that requires foreign workers to get the employer's consent to change jobs or leave the country.
"These cards would ensure timely payment of wages to domestic workers. In addition, the system will enable the authorities to monitor the transactions," the ministry said.
It did not say if the system could be expanded to other jobs done by migrant labour.
Rights group have repeatedly criticized conditions under which foreign maids work in the kingdom, claiming that they are obliged to work for more than 20 hours a day, have their passports confiscated and experience physical abuses.
In recent months, powerful Saudi Crown Prince Mohammed bin Salman has sought to introduce reforms and enhance the country's international image.