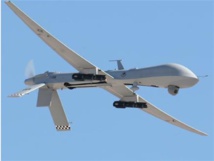 The coalition's spokesman Turki al-Malki said in a statement the drones were directed at civilian targets.
He added "such hostile and terrorist acts are blatant violation to international law and confirm [the] Houthis' rejection of a ceasefire that was announced by the coalition and began in April."
He stressed the coalition would continue to take and implement "deterrent measures" against the Houthi militias to "neutralize and destroy" their capabilities.
On April 9, the coalition unilaterally announced a two-week ceasefire in the war-torn country, and later it extended it by one month.
Yemen has been in the grip of a devastating power struggle since the Houthis took over the capital Sana'a and other cities in late 2014.
The Houthis' advances on the government's temporary capital of Aden prompted Saudi Arabia to form the coalition and start an air campaign against the group in March 2015.
The conflict has pushed Yemen, already one of the Arab world's poorest countries, to the verge of famine and devastated the country's health facilities.